Heavy Metal Eurovision - internet contest organized by www.esckaz.com
Permanent adress: http://metal.esckaz.com/
Heavy Metal Eurovision - 2nd edition (July - September 2005)
Please find results below. We have 2 shared winners. Read also some reviews for the top 10.
3rd edition is preliminary scheduled for December. Feel free to send us your suggestions for nominees.
Archived information and results of 1st edition of the contest available here
Rules and latest news are located here
Featuring:



List of participants:

Read lyrics of participating entries (please send us missing ones if you have them)
Updated pictures of the participating bands added (please send us missing ones if you have them)
Download voting scoresheet (Excel format)
| | | | | | |
| --- | --- | --- | --- | --- | --- |
| Country | Band (official website link) | Song (mp3 link) | Album (metal-archives link) | Average points | Place |
| Austria | Eleftheria | The Thunder Of Doom | Legends Of Old 2004 | 5,2 | 31 |
| Belarus | Vicious Crusade | Forbidden Tunes | Forbidden Tunes 2002 | 5,7 | 21 |
| Belgium | Before Silence | Salvation | The Screaming Wolves 2004 | 6,1 | 10 |
| Bosnia and Herzegovina | Divlje Jagode | Pisi Mi | Od Neba Do Neba 2003 | 5,2 | 32 |
| Bulgaria | SJK | Worm In A Brain | Worm In A Brain 2002 | 5,4 | 26 |
| Croatia | Savage Harmony | Lost In Time | Lost In Time 2004 | 5,3 | 29 |
| Cyprus | Blynd | Circle Of Life | Embraced And Abandoned 2004 | 5,4 | 24 |
| Czech Republic | Nemesis | Servant Of Will | Goddess Of Revenge 2003 | 6,9 | =1 |
| Denmark | Manticora | 2004 Help Me Like No One Can (apathy) | 8 Deadly Sins 2004 | 6,8 | 3 |
| Estonia | Metsatroll | Kotkapojad (Flight of the Eagle) | Hiiekoda 2004 | 4,7 | 38 |
| Finland | Altaria | Will To Live | Divinity 2004 | 6,3 | =7 |
| France | Eternal Flight | The Masks Will Fall | Positive Rage 2004 | 5,7 | 18 |
| Germany | Logar's Diary | Lonely On The Serpent River | Book I - Iostros 2001 | 6,0 | 15 |
| Greece | InnerWish | Dancer Of The Storm | Silent Faces 2004 | 6,9 | =1 |
| Hungary | Tuzmadar | Nero | Jegkorszak 2005 | 5,8 | 17 |
| Ireland | Old Season | Sands She Turned For Time | Volume One 2004 | 6,3 | 6 |
| Israel | Flash | The Other Side | The Other Side 2004 | 5,1 | 35 |
| Italy | Skanners | Flagellum Dei | Flagellum Dei 2001 | 6,0 | 13 |
| Kazakhstan | Gone | Zamki V Nebesah (Castles in the Air) | Demo 2005 | 4,7 | 37 |
| Latvia | Skyforger | Uz Ziemelkrastu (To The Northern Shores) | Semigalls' Warchant 2005 | 5,2 | 32 |
| Lebanon | TristMoon | As I Come To You | TristMoon 2005 | 4,9 | 36 |
| Lithuania | Obtest | Auka Seniems Dievams | Auka Seniems Dievams 2001 | 4,7 | 39 |
| Luxembourg | Thousand Lakes | Scream With Fright | Sphere 1998 | 5,3 | 27 |
| FYR Macedonia | Sanatorium | Vo Sebe Umiram | Sanatorium 2001 | 4,4 | 40 |
| Malta | Foresaken | Via Crucis | Iconoclast 2002 | 6,1 | 9 |
| The Netherlands | Reviver | Garden Of Eden | Reviver 2005 | 5,7 | 20 |
| Norway | Gaia Epicus | Fire & Ice | Satrap 2003 | 6,8 | 4 |
| Poland | Mistrust | Incurable Mistrust | Incurable Mistrust 2002 | 5,3 | 30 |
| Portugal | Mindfeeder | The Traveller Of Minds | Rise From The Flames 2004 | 6,3 | =7 |
| Romania | M.S. | Panzer | Rugina Nu Moare 2002 | 5,2 | 34 |
| Russia | Archontes | The World Where Shadows Come To Life | The World Where Shadows Come To Life 1998 | 6,0 | 14 |
| Serbia | Nameless One | Angels Walk The Earth | A Moment In Time 2005 | 5,4 | 25 |
| Slovakia | Hammerheart | Back From Serenity | Demo 2005 | 5,7 | 19 |
| Slovenia | Negligence | War Maschine | Demo 2004 | 5,3 | 27 |
| Spain | Valhalla | The Fallen Angels | Night Breed 2003 | 6,0 | =11 |
| Sweden | Lefay | The Boon He Gives | The Seventh Seal 1999 | 6,0 | =11 |
| Switzerland | Inishmore | Out of the Theatre: Act VII: The Storm | The Colours Black 2004 | 5,6 | 22 |
| Turkey | Merzakabul | In Esir Like An Eagle | Unspoken 2001 | 5,5 | 23 |
| Ukraine | Conquest | Frozen Sky | Frozen Sky 2005 | 5,9 | 16 |
| UK | Dragonforce | My Spirit Will Go On | Sonic Firestorm 2004 | 6,8 | 5 |
Some remarks about the winners of the 2nd contest from different reviewers:

Greece - Innerwish - Dancer Of The Storm
- This is real German metal, despite it comes from Greece! Can be recommended to those who like Wizard and Paragon, and even to fans of Gamma Ray, despit the vocal here is totally different, and most close to Paragon. Drummer works perfectly (and song does not contain drum solo or other unneccesary things), guitar-bass duo is in full use, which is done by 2-3 bands out of 100.
- Tell me how can I learn to play music like this super band from Greece?

Czech Republic - Nemesis - Servant Of Will
- New band in sympho-metal field, and it is better than 9/10 of analogs. Vocals are the best feature here and they are absolutely perfect. Keyboards are also of high class. Can be recommended to the fans of Rhapsody and Stratovarius, but it may be even better than this two. Recording is done on professional level.
- This is perfect melody, very professionally performed. And this is band from Czech Republic?

Denmark - Manticora - Help Me Like No One Can
- Heavy, fast, thick riffs, vocal almost similar to Kusch's with specific anguish, energy - like in early works of Blind Guardian, and the choirs are also similar to this band. Recommended to those who miss old heavy works of BG. Song is not too long, everything is as it should be, apocaliptical choirs are flying over crazy fast riffs.
- Speed metal with progressive elements, perfect choir, nice vocals and excellent work of bass. Top level.

Norway - Gaia Epicus - Fire And Ice
- Melodic Power, very quality and fast, not very heavy, and not too sweet as some of Finnish bands. Soft and lyrical vocals, excellent job of guitarists. Recommended to fans of Sonata Arctica and similar bands. Very quality product.

UK - Dragonforce - My Spirit Will Go On
- Probably the most fast speed metal band now on the metal scene. Excellent job of guitarist can be compared to virtuoso Malmsteen. Strong vocals. Quality but a bit commercial production.

Ireland - Old Season - And Sands She Turned For Time -
- Keyboard intro transfers to beautiful and dramatic guitar theme - then it goes similar to Testament band. Excellent melodic vocal. A bit of ethnic part on the keyboards moving to solo and back to melancholy. Dark atmospherical tune which can represent best examples of doom metal with clear vocals.

Portugal - Mindfeeder - The Traveller Of Minds
- Vocals similar to Queensrych, but more thin, lyrical and even theatrical - excellent! is the best feature of this song with absolutely hit chorus. Band has it's own charisma and individuality. Style is close to Queen and Fates Warning but a bit heavier. Provided with good studio recording this can become big hit song.

Finland - Altaria - Will To Live -
Very mainstream Finnish style - soft keyboard orientated metal, but quality product and nice to listen to. Good job of guitarists and vocalist mixed with emotional lyrics.

Malta - Foresaken - Via Crucis -
Heavy metal mixed with doom feelings and progressive music. Features angelic female vocals, some growls, but main vocals are typically power metal ones and very strong. Piano job is excellent. Guitars and solos are pretty strong too. Hit chorus is the best part of the song. Can be recommended to quite a variety of fans - gothic, doom metal, Therion alikes, and even to power metal fans.

Belgium - Before Silence - Salvation -
Dark progressive power with some doom elements. Atmosperic keyboards. Accoustic drums (not drum machine!) which is very rare to similar bands. Structure of the song is closer to black/doom, but vocals are typically power. Keyboards bring dark feelings, guitars are more featured at the background. Excellent keys-guitar-bass-drum solo in progressive style, where guitarist and bassist showed their excellent skills.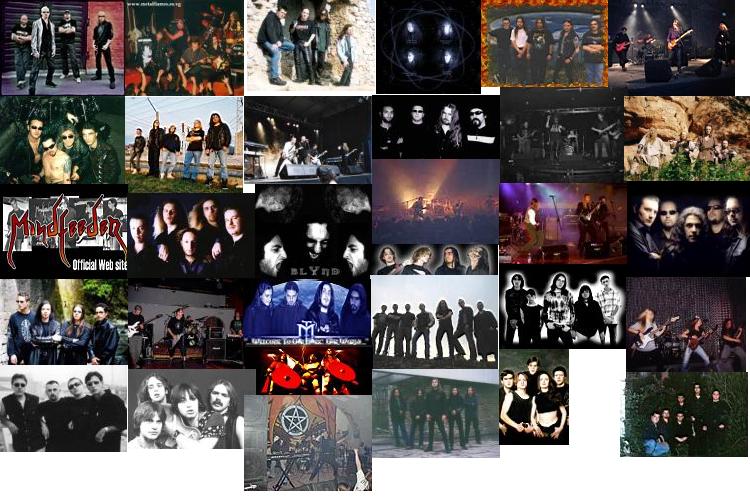 Rules:

Additional clarification: Ladies and Gentlemen! We once again underline that this contest is FAN BASED and UNOFFICIAL. It is organized within the regular frames of such type of contests. There are dozens if not hundreds such contests in the other musical styles, and it seems as this is first event in heavy metal style, it is rather new for the audience, and we need to clarify and emphasize on the fact that participating bands ARE NOT directly involved in the contest. Some of them are not even informed about their participation, and result in this fan contest can not affect them at all. No prizes are distributed as well. It is simple GAME, the one you can play, or can ignore, or can invent your own one with your favourite bands and different rules. Purpose of it is to promote heavy metal bands from different European countries among us, heavy metal fans. Stay metal!

Additional important information: at this point the main voting is done by judging all participating songs on 1-10 scale and sending the votes to metal@esckaz.com . You should rank ALL entries in your vote from 1 to 10, but there is no limits to 10s or 1s or whatever mark you're giving. 0s are not accepted, all bands should get at least 1 point from you. Please listen all songs and vote reasonably, not just giving all bands 1 pt, and your favourite 10 pts. Such votes will be rejected.
Keep votes coming! Vote sheet should include your name, city and country you're voting from.
You're also welcomed to write reviews for the competing songs, which will be published later.
Voting is planned to last during 2 months - and results to be revealed in September. The end of voting will be announced one week in advance. No preliminary results will be published ever not to affect further votes.

If you will notice broken links, or will need better quality files of participating entries, or full mp3s of those entries presented at the list by samples - write to us and we will try to help you when possible.
Attention - couple of files may require preregistration at the servers they are located at, it is very simple procedure, but alternatively we can send this files via e-mail.
We recommend you to use SoulSeek software for mp3 files search, but please try to download official mp3s linked in the list where possible, or buy original CDs when available.

Main rules:

Participating countries - EBU countries. Few countries may be in and out from one edition to another if no suitable bands are located for respective country. The possibility for expanding contest is being discussed, however no widcards will be given if contest stays European only and all continents will have equal rights in case World concept will be accepted.

Requirements for participating bands: page at www.metal-archives.com, official website with mp3 files available for download in decent quality. Priority is given to active power metal and prog metal bands with experience.

Preselection: Big 8 countries (UK, Germany, Sweden, Finland, Italy, Denmark, Netherlands, Russia) representatives are selected via internet voting, participants from the rest of 33 countries are selected internally by organizers. However organizers are accepting suggestions which will be properly considered.

Nominations for the big 8 countries and suggestions for the other countries should be sent to organizers at metal@esckaz.com or published at the discussion board which is located at Metalism records messageboard. Voter can nominate only one band (not song) for each of 8 countries. The band getting most nominations occupies country spot in the current edition of the contest.

The main voting is done with judging all participating songs in 1-10 scale and votes should be sent to organizers at metal@esckaz.com or published at the discussion board which is located at Metalism records messageboard. Before the voting you should download and listen properly to all of the participating entries. For voters residing in Almaty, Kazakhstan all entries can be given out on mp3 CD if requested. In case download link fails to function and no alternative will be available - organizers will take the decision whether to upload file themselves or to disqualify the entry. To get better quality mp3 - buy original CDs and if they are not available use sharing programs as E-Mule & Soulseek. We have checked - all songs are available through this software.

Deadlines for voting are set by the organizers, in general nominations period takes one week and voting period - one month. Contest is scheduled to run twice a year if other schedules permit.

Participation in nominations and the main voting is open for everyone, but voter should mention his name, e-mail and city of residence when voting. One can vote for his own country, but all votes will be checked to prevent multiply voting. Only correspondence in English or in Russian will be accepted. Attention: No mp3s to be sent via e-mail!

Disclaimer: Heavy Metal Eurovision is not real life contest, it is fan based event taking place in the internet. Purpose of it is to promote heavy metal bands from different European countries. Data and recordings used in this contest remain property of the bands and other copyright holders and are used by the organizers for the promotion purposes only. Heavy Metal Eurovision is not associated with Eurovision Song Contest which is registered trademark of European Broadcasting Union.

Organizers hold the right to change the rules at any point of the competition or to cease the event completely.

special thanks to www.metal-archives.com and http://metalism.fastbb.ru/

We also kindly thank following band representatives for their interest in the project and wish them good luck in the contest and success in the future:
Before Silence, Blynd, Eleftheria, Gaia Epicus, Gone, Eternal Flight, Manticora, Mindfeeder, Old Season, Tuzmadar;
Altair, Armageddon, Desert, Distant Light, Dyslesia, Emerald, Holy Dragons, Offertorium, Persefone, Rosebourg, VII Gates, Symbolic.